Complete Heating Services in Middletown, Cromwell and Nearby CT
Heating Repair Services & Installations
At Cromwell Energy, we install and service many of the highest rated brands of heating equipment, including: American Standard, Biasi, IBC, and Navien. From hot water heaters and oil tanks, to boilers, burners and furnaces, we offer a wide selection of heating systems that will help keep your house warm all winter long.
Our qualified HVAC experts can recommend the best heating system and total home solutions to meet all of your heating needs. Whether you heat your home with oil, natural gas or propane, Cromwell Energy's licensed technicians have the expertise to optimize your home heating system. We offer expert oil furnace repair and gas furnace repair as well, and will maintain your current system and keep it running efficiently.
New Heating System Installations
Cromwell Energy's "sales" people are all HVAC technicians. They are not working on a commission basis and are dedicated to finding the optimal solution for your home.  We listen to our customers and ensure that what we recommend matches those requirements. We will take the time to explain why the system we are recommending is best for your home and are focused on working within your budget. There is a reason why so many homeowners have trusted Cromwell Energy to install their heating equipment: we offer excellent products, and excellent service, at a fair price.
Need financing for your new system? Cromwell Energy has a number of financing options to meet your budget.  Many high efficiency systems also qualify for Federal or State rebates, and manufacturers add in additional incentives on select systems. Today's modern heating systems are light-years ahead of old technology when it comes to high efficiency, and that efficiency translates into using less energy, long-term savings, and more dependable comfort for your family.
Is It Time to Replace Your Furnace of Boiler?
Looking for furnace replacement or heating repair in Cromwell, Middletown, Glastonbury, West Hartford or nearby CT? You can count on Cromwell Energy to provide the right heating system for your needs, and to optimize the efficiency of your existing system. If your boiler, burner or furnace is not performing as well as it should, you may be ready to have your heating system updated to a more efficient model. If you are in the process of building a new home, or remodeling an existing home, contact us for a free estimate.
We sell and install several brands and will be happy to visit with you at your home or our offices to discuss the options. Outlined below are some of the brands we recommend, and why we think they are a good value.
American Standard
American Standard furnaces are one of the top rated furnaces on the market. Their S-Series Condensing furnaces are very high-efficiency (96%-97%) and have state-of-the-art features such as:
Durable hot surface igniter: starts the burner electronically for safe, efficient operation.
Two-stage gas valve: Results in greater efficiency by using just the right amount of fuel for each stage.
Variable-speed ECM blower motor with Comfort-R: Operates at a lower, more efficient speed, while the exclusive Comfort-R feature ensures greater humidity control during cooling.
Stainless steel primary heat exchanger: Withstands higher temperatures, resists corrosion, and is efficient at heat transfer.
Secondary heat exchanger: Extracts even more heat from the combustion process. Made of corrosion resistant stainless steel.
To see a full list of high-quality features, click on the attached product brochure!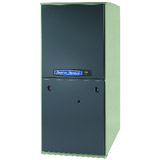 BIASI
The BIASI B10 Boiler System is a rugged, high performance oil/gas fired, cast iron boiler designed to deliver efficiencies as high as 87.3%; much higher than that of "single pass" domestic boilers. The BIASI B10 has a unique triple pass heat exchanger that extracts the maximum amount of heat from the combustion gases, resulting in very little wasted heat. The B10 is an affordable, versatile, long-lasting heating system that provides high combustion efficiencies and considerably lower fuel costs. The BIASI B10 also comes with a limited lifetime warranty!
Click on the attached BIASI B10 product brochure for additional product details and specifications!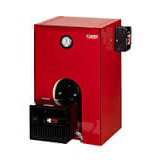 IBC
The IBC DC Series boiler is the only fully condensing combi boiler on the market. With a 30 year proven track record, the DC series boiler will provide enough hot water for both your kitchen and bathroom, as well as enough heat to make your home cozy and snug! IBC's unique 2 in 1 heat exchanger also eliminates the need for a diverter valve and plate type heat exchanger. The DC Series features:
Up to 95% AFUE (efficiency) with full ASME-rated vessel.
Innovative state-of-the-art electronics control the gas valve, fan and ignition.
Outdoor reset technology that increases efficiency by lowering the water temperature automatically.
Up to 3.2 agllons-per-minute continuously at 70 degree rise.
Click on the attached product brochure to get a complete list of the IBC DC Series features and product specifications!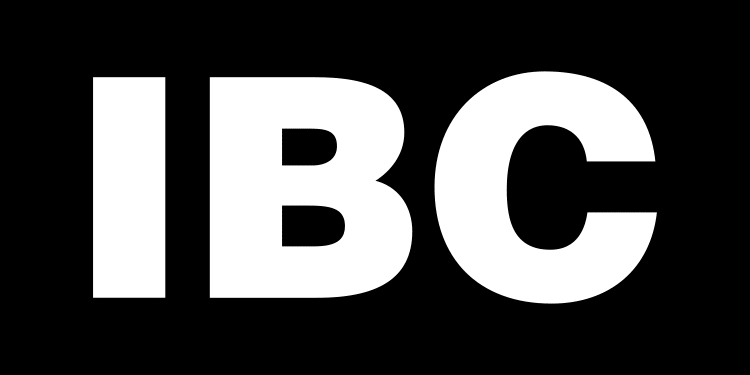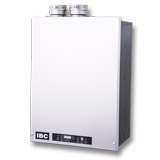 NAVIEN
The NAVIEN NCB-E combi-boiler is one of the top-rated combi-boilers on the market.With an Energy Star "Most Efficient" rating for 2018, and an AFUE (efficiency) of 95.0%, the NCB-E provides state-of-the-art performance and a sleek, compact design. "The NCB-E is the first high-efficiency condensing combi-boiler with the capacity to supply both heat and hot water for larger homes – enough hydronic heat for a whole house, plus enough hot water to run tow showers and a dishwasher all at the same time. The NCB-E includes:
Dual inputs of up to 120k BTU/H for heating and 199k BTU/H for domestic hot water (DHW).
A separate stainless steel flat plate heat exchanger for DHW creating the highest flow rate of any combi-boiler in the industry.
Space saving design occupies 80% less space than a traditional floor standing boiler and storage tank.
The attached product brochure provides a detailed list of product features and specifications!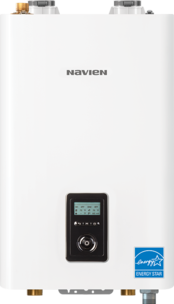 Common Home Heating System Problems & Solutions!
Problem: Why is My Furnace or Boiler Not Running?
When boilers or furnaces are "not running", it is often a simple or routine problem. One way to save money on a service call is simply to check for some of the basic issues that we encounter. Try checking these do-it-yourself solutions before calling for service:
Solutions:
Check that safety switch is on (usually at the top of the basement stairs) and that the circuit breaker is not tripped.
Check thermostat: In Heat position? Temperature turned up?
Check oil tank gauge to ensure you have oil.
Change the filter on your furnace.
If none of these solutions solves the problem, then call our service team to get back up and running!
Problem: Why is my Furnace or Boiler Producing a Smell and/or Soot?
Problems related to smells or other visible signs (soot or smoke) are more serious and generally require immediate attention by a trusted professional. This is particularly true if you have natural gas, as both the smell (carbon monoxide) and the combustible nature of gas, pose a threat.
With oil-fired systems, the solutions may be straightforward, such as a plugged furnace or smoke pipe. It is essential that you have your boiler cleaned yearly to prevent sooting and smells.
Solutions:
Shut off safety switch if you use heating oil (usually at the top of the basement stairs) or call the gas company immediately if you smell gas.
Have your furnace/boiler cleaned yearly.
Only use heating oil that has been treated with a high-quality additive.
Problem: Why Does my Furnace or Boiler Run Continuously or Make and Excessive Noise?
Many homeowners become concerned when they notice their heating system won't turn off or is making consistent and excessive noise. If your heating system seems to run continually, this is often a sign of furnace problems related to the motor, or may be due to a clogged filter or improper air flow.
Solutions:
The only real solution here is to call your local HVAC professional to accurately diagnose the noise and make the necessary repairs. It's important for homeowners to ensure that the HVAC technicians are licensed and insured, and that the heating company has a solid reputation in the community.
For over 35 years, Cromwell Energy has been the top heating company serving Middletown, Glastonbury, West Hartford and nearby areas of CT. No matter what type of home heating problem you are experiencing, our knowledgeable technicians will take the time to walk you through why the heating issue is happening and the best possible solutions to make sure your heating system is performing efficiently all winter long.
Call Cromwell Energy today at (860) 635-1234 or contact us online here to schedule your free home heating estimate today!
Just A Sampling of the many Energy Efficient Models Available